SUPER MOBILE CONCRETE BATCHING PLANT
SBM EUROMIX® 3000 SM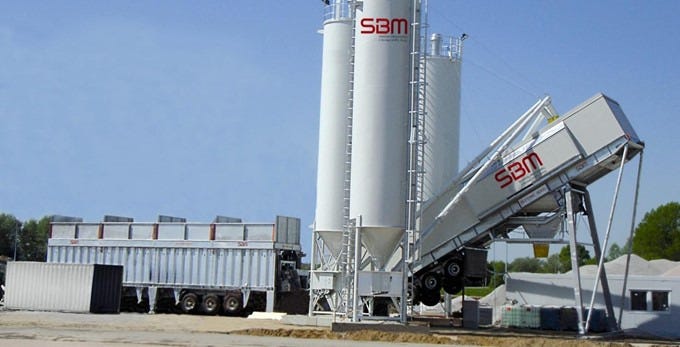 MIXER UNIT| EUROMIX® 3000
supermobil [SM] | SM
compacted concrete output [m3/h] | 130
compacted concrete output mixer [m³/Charge] | 3,00
filling capacity per Charge [l] | 4500
aggregate scale [kg] | 7500
cement scale [l] | [kg] | 1800 | 2100
chemical scale [l] | 2 x 25
water dosing hopper [l] | 720


BUNKER UNIT | CHAMBERS | EUROMIX® 3000
84 L | 4-7 | SM
Optional: 168 L | 4-7 | SM
SUPERMOBILE BUNKER UNIT 84 L
in galvanized version
Loading bunker 4 chambers a´21 m³ = 84m³
Bunker discharge belt for sand
3 metering flaps
Weighing belt
Compressed air supply
Point support
Electrical equipment
3-axle chassis
Pre-assembly in the SBM plant
OPTIONEN
Silo equipment for cement silo 69 m³ | 85 t, mobile (screw conveyor, control, vibrating filter, accessories, ...)
silo body for cement silo 69 m³ | 85 t with ladder, mobile
Additive storage (4 types)
(incl. 4 pcs. 1,500 l tanks and pumps)
Container 30 '(9.0 x 2.5 x 3.1 m)
(divided: control room and additional additive store)
Embankment and embankment wall (one-sided) extension the bunker unit from 84m³ to 168m³ (incl.
Transport frame for bunker extension walls 168 m³)
SUPERMOBILE MIXER UNIT 3000 SM
in galvanized version
Inclined conveyor belt
cement scale
Additive scales 2 chambers
Two-chamber spirit level
BHS DKXS twin-shaft batch mixer
Concrete discharge hopper
Cladding with ISO panels
Compressed air supply
Point support
Electrical equipment
Control unit Dorner or Simma
3-axle chassis
Pre-assembly in the SBM plant
We would be glad to show you an SBM EUROMIX 1600 at the Meiningen location.
Our demonstration machine awaits you.

Are you interested in an SBM EUROMIX 1000 or 1600?
Contact us or send us your request!
We'll take care of it immediately!